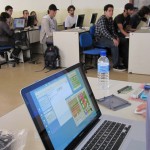 MOOCs have undoubtedly had an impact on the learning environment, with some 25 million people believed to have enrolled on courses over the past few years.
A number of issues remain however, not least of which is the low completion rate of your typical MOOC, and the challenges in certifying the knowledge gained during the courses.
Compounding these issues is the persistent perception that MOOCs primarily appeal to those who already have an education.  Their lack of apparent crossover into the market occupied by the really needy parts of society cast doubt over the success of the model.
A previous study found that most of those who complete a MOOC are already in possession of degree level qualifications.  The data suggests that the students who succeed in the MOOC environment are those who don't particularly need MOOCs in the first place: they are the self-motivated, self-directed, and independent individuals who would push to succeed anywhere.
Follow up studies found that MOOC students were typically employed and well educated, so it didn't appear to be crossing the chasm to reach those who could benefit the most.
A recent study adds fuel to the fire of these allegations.  It suggests that rather than closing any disparity gap that exists, the rise of MOOCs have actually contributed to the widening of the gap.
MOOCs and the widening disparity gap
The authors looked at a number of students who had participated in MOOCs offered by MIT and Harvard between 2012 and 2014.  The data was valuable because each record contained the address of the student, which then allowed the researchers to compare that with census data to gage the typical wealth and education level for people living in their neighborhood.
When the data was analyzed, it emerged that most of the students enrolled on the MOOCs were from wealthier neighborhoods, with (unsurprisingly), most of those who then completed the courses also from the same backgrounds.
What's stopping poorer students from signing up?
Suffice to say, the cost of enrolling isn't a barrier to sign-up to a MOOC, so what is stopping people from less well off neighborhoods enjoying the benefits of a MOOC?
A letter published in Nature a few years ago on the same issue suggests that better access to technology and improved basic education are needed worldwide before MOOCs can live up to their promise.
The work of Sendhil Mullainathan and Eldar Shafir suggests that MOOCs won't really 'cross the chasm' until poorer neighborhoods are in a more receptive state.
They look at poverty through the lens of behavioral economics, and suggest that the intrusion of poverty into our mental 'bandwidth' prompts the poor to make worse decisions.
This is typically so in all manner of areas, whether financial or taking up various opportunities seemingly open to us.  As such, it would suggest that until more 'bandwidth' is freed up, MOOCs will continue to pass the poorest by.