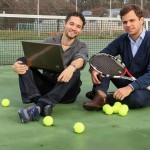 The past few years have seen a number of innovations in the field of sports performance and analytics.  For instance, MOOV Now provide a wearable device that tracks our performance and uses its AI engine to provide coaching and feedback on that performance.
Or you have Stats One, which aims to provide for amateur sports what companies like ProZone offer to professional athletes.
These approaches generally require the player to wear something that will track their performance, but a recent Swiss project aims to build tracking into the playing surface itself.
Smart tennis courts
Swiss company Technis, which spun out of EPFL, has created a smart tennis court that will provide insights such as surface impact, game performance, and even training challenges to help you hone your skills.
The company, which won the Swiss Startups Award 2015, wanted to develop a tool that had every day value without requiring the player to purchase new equipment.
The technology is embedded within the court itself and monitors the players as they move about the court.  In addition to providing basic tracking, it can also add an augmented reality layer to proceedings.
For instance, players can set themselves goals or challenges, such as hitting particular targets on the court, or to compare their current performance with past performances, or even with pros that have loaded their data into the system.
Revolutionizing tennis
The team believe the product has the potential to revolutionize a sport that has largely resisted widespread technological advancement.
"Some players wear a connected wristband, but few of them outside the pro circuit have a chance to train on a court equipped with video cameras that allow them to trace the path the ball takes," the team say.
The next stage is to test the product out with various clubs in the area, before then rolling it out further and undertaking a more detailed marketing campaign.
It's certainly an interesting project.  You can find out a bit more via the video below.