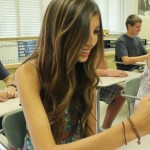 The flipped classroom has gained significant traction since MOOCs have grown in popularity.  A few years ago a Stanford study explored the concept in the context of teaching neuroscience.
"Our results suggest that students are better prepared to understand a theory after first exploring by themselves, and that tangible user interfaces are particularly well-suited for that purpose," says Bertrand Schneider, a graduate student who led the research under the direction of Paulo Blikstein, an assistant professor of education.
Whilst the concept has not quite crossed the chasm yet, it is nonetheless gathering a growing evidence base to support it.  Researchers from Concordia University believe flipping the classroom can play a crucial role in improving physics education.
The virtue of flipping the classroom
The researchers document their thinking in a recently published paper, and found improvements in both thinking and learning by engaging in a flipped approach.
"It has been shown that in typical physics classes, students' beliefs about their own learning deteriorate or at best stay the same. I want to reverse that result," the authors say.
"This study shows that if you combine a meta-cognitive activity with an interactive activity, students can better hone their thinking abilities for that course."
In laymans terms, meta-cognition is the simple act of thinking about how we think.  So when people engaged in reflective writing, they had to express in their own words the content they had read in the text book.
Learning by teaching
This in itself is not a new finding, with Oppenheimer famously saying that we learn best when we teach others, and a number of studies highlight the power of reflection on our ability to learn.
The theory is that because that is a much more involved process than merely regurgitating information in a rote fashion, it engages more of our brain in the process.
This approach to reflective learning works particularly well when combined with collaborative work with both ones peers and with professors.
"That combination of activities produces what is referred to as cognitive dissonance—that feeling of discomfort when the new information you're confronted with conflicts with what you already believe," the authors say.
The eventual aim for the researchers is an environment whereby students grapple with a problem on their own, before then coming to a collaborative class environment where they can work on the challenge alongside their peers and their teachers.
Time will tell how realistic this goal turns out to be.