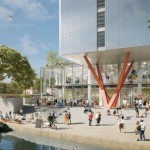 There is an undoubted buzz around clusters and the innovative potential of living in a city where you're surrounded by lots of bright people looking to do great things.
Alas, that collaborative potential often comes at a cost, with rents for both commercial and residential properties often sky high.
A study published last year found that high property costs were a major factor in a growing number of startups moving out of cities such as London to cheaper environments.
In the commercial sector we've seen the rapid rise of co-working spaces that aim to offer startups a more affordable way to get access to top quality facilities.
Co-living
Of course, that still leaves the challenge of finding somewhere affordable to live.  It's a challenge that The Collective is hoping to solve with it's Old Oak property.
The property, which is due to open in May 2016, offers 12,000 square feet of shared living space in a vast abandoned office space that has been converted into what the company are calling a co-living space.
Each resident will have a private bedroom, kitchenette and bathroom to themselves, and will then share a range of other amenities with hundreds of other flatmates.
These amenities include a spa and gym, games room, cinema room, kitchen spaces and a secret garden.  There are also larger dining spaces that can be rented should residents wish to entertain guests.
The aim, much as with co-working spaces, is to provide residents with some private space coupled with a strong sense of community.
A viable solution?
The question is, is this a viable solution to the very real problem of a shrinking pool of seemingly ever more expensive accommodation in the city.
With rent in the facility starting at £1,000 per month (albeit including a range of add-ons, including all bills paid, free wi-fi and a weekly cleaner), it is still at the pricey end of the market.
The property company Zoopla reveal that average rental costs for a room in London are just over half of that, so it isn't clear whether this facility isn't catering to those who aren't really struggling to finance accommodation in the first place.
I'd love to hear your feedback though.  Would you consider living in a place like this?