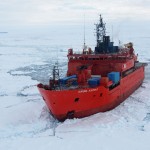 One of the most common, not to mention effective, early use of drone technology will be in providing an effective means of monitoring hard to reach landscapes.
For instance, I wrote recently about a project to use drones to help keep an eye on the Peruvian Andes, and particularly the glaciers that reside there.  The aim is to gain a much better understanding of how climate change is affecting ice levels in the region, and the possible knock-on effects of this on the wider region.
Drone based navigation
A similarly ice based project is underway in Australia, but this time, drones are being used to help the Aurora Australis ice breaker ship navigate its way around treacherous seaways.
Each year the ship makes a resupply voyage to the Casey research station, and this year the ship is using drones to supply the craft and its pilots with sea-ice conditions.
The devices are providing a valuable service to the Australian Antarctic Division, who reveal that they are supplementing the current sea-ice navigation tools such as radar and satellite imagery, despite having to overcome the challenging environment.
"The electronics do not like snow, the batteries do not like the cold, and the drone's compass did not like the ship's thousands of tonnes of steel," the team say.
"Because the compass couldn't calibrate on the ship and its need to work alongside the unit's GPS, there was potential for the UAV to behave unpredictably.
"We found that by disabling the GPS and flying the drone in full manual mode enabled the drone to operate successfully and deliver the required footage."
Thus far, the drone has carried out five fact-finding missions during a nine day voyage.  Its performance during this mission will then be used to decide whether it will be a permanent presence on future missions.
The Australian team have four research stations in the Antarctic, so resupply runs are a common endeavor to ensure they're well stocked with fuel, supply and expeditioners.
Whilst the likes of Amazon garner many of their headlines for their own use of drones, it seems likely that projects such as these will be the true pioneers of the technology.