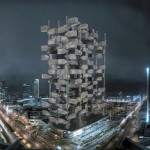 Whilst as a purchaser of property, you may be slightly skeptical of claims that the industry is changing, there have nonetheless been some innovations in the industry, whether that's the easy configuration of interior spaces, the use of robots to make properties energy efficient, the use of drones to supervise building sites, houses made using 3D printing, temporary and portable housing in inner cities and even the automation of construction itself.
A recent report (embedded below) by Birmingham City University underlines some of the digital changes happening in the industry.
The report, which was written in conjunction with the Building Alliance suggests that technologies such as Building Information Modelling (BIM) could play a major role in the industry of the future.
A changing housing industry
For instance, the report suggests that things such as digital 'dashboards' are on the horizon, whilst they are also confident in the imminent arrival of mobile apps that can monitor the 'health' of our house and recommend repairs before they get too fatal.
The authors also believe that technology can help the buying process, allowing people to view their future home in virtual reality.  They will be able to place their own belongings inside the soon to be built house and travel through the home to see how it will look.
The team hope that the report will go some way to ensuring the buying and building processes are better connected than ever before.  Homes will be given safety certificates each year in a similar way to cars receive a MOT.
"We've seen a push for more digital construction techniques to be used on commercial projects but no one has really looked at what this could mean for the future of the housing industry," said Professor David Boyd, from Birmingham City University.
"From a buyers' perspective this could be a real game changer, giving them an increased amount of choice and flexibility as well as the long term maintenance support from housing developers," he continued.
Professor Boyd believes that the increase in digital technology gives an unparalleled opportunity to connect the operational aspects of building and maintaining homes, with that of consumers buying the property.
"We regularly maintain our cars so there's no reason why we shouldn't be doing the same with our homes and this would add to the value of homes in much the same way as a full service history does," he concludes.
It's certainly an interesting look at some of the possible changes about to occur in the housing industry.  I fully encourage you to read the report for yourself, which you can do below.