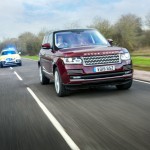 Driverless cars are undoubtedly big news, and the UK is aiming to ensure it stays at the forefront with the announcement of eight new projects receiving a total of £20 million in funding to develop various driverless technologies.
One of these is a project being undertaken by Jaguar Land Rover, who are building a 41 mile 'living laboratory' on UK roads to develop what it's calling Connected and Autonomous Vehicle (CAV) technologies.
Real world conditions
The project will see a variety of new roadside communications equipment installed along the route to test a fleet of 100 autonomous vehicles.
The aim is to test the kind of high speed communication between cars and roadside infrastructure that will be fundamental to the success of the technology.
Dr Wolfgang Epple, Director of Research and Technology, Jaguar Land Rover, said: "This real-life laboratory will allow Jaguar Land Rover's research team and project partners to test new connected and autonomous vehicle technologies on five different types of roads and junctions. Similar research corridors already exist in other parts of Europe so this test route is exactly the sort of innovation infrastructure the UK needs to compete globally.  
"The connected and autonomous vehicle features we will be testing will improve road safety, enhance the driving experience, reduce the potential for traffic jams and improve traffic flow. These technologies will also help us meet the increasing customer demand for connected services whilst on the move."
These kind of connective technologies are crucial for the development of automated driving, but are also likely to play a part in making transport systems smarter in the interim.
They can, for instance, provide traffic authorities with live data to manage traffic flow and help the driver optimize their journey.
Connected motoring
A second project awarded funding is the i-Motors project, which was awarded £1.325 million to work on a set of universal standards to enable driverless vehicles to communicate with one another, and indeed with other machines.
i-Motors is a consortium led by the University of Nottingham alongside the digital technology company Control F1.  They will develop a mobile platform to allow vehicles to transfer and store data, regardless of their make and manufacturer.
The aim is to make data available at super fast speeds so that it can be efficiently combined with other data sources, such as weather reports, traffic information or event data.
The platform also offers vehicles the ability to report errors, which can then be automatically cross-referenced with similar reports to try and diagnose the problem and hopefully prevent more serious issues.
An interesting element of the project is that it will aim to provide functionality even when out of range of GPS or the Internet.
It will see sensors known as Beyond Line of Sight (BLOS) installed to ensure connectivity is maintained at all times.
The system will be tested out in Nottingham, Sheffield and Coventry, with live vehicle data being provided by Ford.
Helping driverless tech flourish
A third of the funded projects is taking place in the South West, and aims to consider the mobility needs of older adults, therefore reducing loneliness and liberating those who were previously isolated by a lack of transportation.
Associate Professor Praminda Caleb-Solly from Bristol Robotics Laboratory explains, "Ageing brings a host of physical and cognitive impairments, together with long-term conditions, resulting in the need for added support. Maintaining health and independence, and participating as active members of society, requires people to be mobile.
"Studies show that cessation of driving can lead to reduced social activity, poor health and depression. In the UK, over one million older adults say they always, or often, feel lonely. This research would mean that people in this situation wouldn't have to depend on others for transportation and would have the ability to make spontaneous choices."
The project hopes to develop intuitive interfaces that allow older user groups to confidently communicate with an autonomous vehicle, even if they suffer from impaired vision or loss of hearing.
Initial work will be undertaken on a simulator before this is then transferred into an actual physical interface, which will be put through its paces in physical trials.
The projects are part of the wider £100 million Intelligent Mobility Fund offered by the UK government, with the global market for such technology believed to be worth £900 billion a year by 2025.