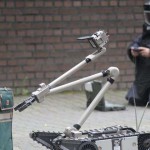 The area of bomb detection is already one that makes extensive use of automated devices, but it's likely that such machines will soon make their way from the battlefield to public spaces such as train stations and airports.
In our current climate, luggage left in public spaces has to be treated with the utmost caution, yet manually examining these items comes with obvious risks.
Automated bomb detection
A team of German researchers have developed a remote controlled robot that's capable of assessing the danger of a situation, whilst also producing 3D images of the contents and shape of the luggage (as evidence in case it is explosive).
The team, from the Fraunhofer Institute for High Frequency Physics and Radar Techniques FHR in Wachtberg, have worked with the North Rhine-Westphalia State Office of Criminal Investigation, the Leibnitz University in Hannover, ELP GmbH and Hentschel System GmbH in developing the device.
It consists of a multimodal sensor suite complete with wave scanner, high-res digital camera and a 3D monitoring system.  It's controlled remotely by bomb disposal engineers.
The 3D cameras enable an accurate representation of the scene to be created, whilst the wave scanner checks the contents of the luggage.
Beyond harms reach
"Up to now our techniques have not allowed us to form a 3D outline of suitcase bombs, and it has been impossible – or only partially possible – to make a spatial map of the contents. With the sensor suite we can visualize in three dimensions what's inside a luggage item, and so determine the composition of the bomb and how the parts are arranged in the luggage," the team say.
This technique gives experts the ability to assess any threat very quickly, whilst at the same time preserving evidence about the potential bomb.
This is crucial as traditionally bomb disposal experts would need to destroy suitcase bombs, which obviously made it difficult to then continue investigations.
Fast reconnaissance
Central to the fast operation of the device is the millimeter wave scanner that the team have developed to provide rapid reconnaissance of the scene.
"For the radar we make use of the synthetic aperture radar, or SAR, principle, by which the sensor is moved along a trajectory, a kind of track – from left to right in front of the case, for example – and the Doppler information generated in the process is used to create an image," the team says.
The team next hope to develop the device further to allow it to better gage the optimum trajectory for surveying the object.  This typically depends on the shape of the object, it's position within the environment, and of course, it's position relative to the robot.
It's hoped that a demonstrator product will be available in April of this year, with extensive field tests then beginning in 2017 before a planned commercial launch in 2019.