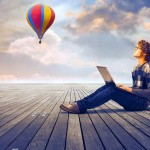 The web is nothing if not awash with content and therefore opportunities to learn new things.  Of course, with that level of content, information overload can be a significant challenge, so whilst it seems inevitable that the web has made us smarter, to a large extent the question remains open.
For instance, a study published last year found that when we obtain knowledge online, we perceive our knowledge as much greater than we do when the knowledge is obtained through other channels.
Reducing our ability to ask the right questions
A recent study, from researchers at the University of Washington, suggests that the web may also be eroding our ability to formulate questions and think for ourselves.
The study saw 1,651 graduates from across the US interviewed over a two year period to ask how they went about finding information online, and the various challenges they faced in transitioning into the labor market.
The analysis revealed that the vast majority of graduates looked for quick and easy to digest how-to style fixes to solve their problems.  Much of the time, this hunt was for tips on dealing with older colleagues or on fine-tuning their technical skills.
Much of this, understandably, was done via Google, with social media also a popular channel by which to hunt down information.  Sadly, more in depth sources such as TED talks and online courses were used far less often.
It should be said however that for many, they struggled to find both the time and the motivation to continually update their skills, whether online or offline.
Interestingly, most reported that their time in university had made them better at finding new information, but had been much less useful at framing their own questions.
"Clearly, a wide gap exists between the life skills graduates have and the ones they still need to learn," the authors say.
"Most of the grads we studied scrambled to learn such essential new skills as money management, household repairs, and how to advance in their careers and communicate better on the job."
They were much better prepared to identify and ask their own questions however, which given the crucial role of this in our professional lives is something of an oversight.
The authors suggest that a major reason for this is the reduction in liberal arts courses undertaken.  As these courses tend to include the encouragement of general inquiry and independent problem solving it's short-sighted to focus solely on the financial rewards of a course over the development of a rounded skillset.