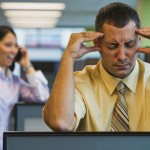 Open plan offices are widely chastised for their impact on our ability to concentrate and focus on our work, yet they, together with other trends such as hotdesking, persist in the modern workplace.
It's perhaps no surprise that such environments are anathema to introverts, but that is exactly what a recent study revealed.  It found that open plan offices may be great for extraverted people, but most of the rest of us find them incredibly uncomfortable.
The personality of your office
"Despite changes in technology many people still work in an office. Understanding how personality interacts with the office environment is key to improving job satisfaction and productivity," the authors say.
The study saw a few hundred employees quizzed on both their current work environment, and on their personality type.
When the results were analyzed, they revealed that the modern office is usually much more suited to extroverts than it is to introverts.  The extroverted members of the group were generally much happier and reported higher levels of job satisfaction.
Why we tend to make things worse
What's more, new policies by facilities managers tend to exacerbate things rather than improve them.  For instance, hot desking was widely reviled by everyone, whilst having ample quiet areas to go and focus were widely sought after but seldom offered.
"These results support previous research into the unpopularity of open-plan offices and hot-desking and the positive effects of personalisation. However, there are some simple changes that can be made to improve staff satisfaction and increase productivity," the authors say.
"These include allowing staff more storage for personal items when hot-desking; creating smaller neighbourhoods within open-plan offices; not overdoing clear desk policies as clearing away all personal items can be demotivating to some people and providing quiet zones for people to work in when needed," they continue.
Living and working
These findings chime with the results of a second study that I wrote about last year.  This time, rather than limiting its reach to our work environment, it wanted to explore the kind of environments different personality types would love to live in.
It found that introverted people are much more likely to live in mountainous areas where they have ample time and space to recharge.
So, if you're based in a bustling city and then provide employees with a stimulus-rich open office workspace, there's a pretty strong chance that you're going to alienate the introverts in your workforce.
A natural solution
Thankfully, there may be a relatively natural solution to this.  A third study explored the white noise systems that are typically installed in most office spaces.
These deploy a low-level sound that aims to muffle the spread of un-wanted chatter throughout the office.  Researchers found that if you replaced this generic white noise with that of a bustling mountain stream, it had a profoundly positive impact upon workplace morale and productivity.
All of which may be food for thought if you want to get the best out of the introverts in your midst.