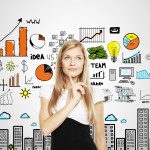 It's well reported that startups have a high risk of failure, and that if we're to develop an entrepreneurial society then we need to develop an acceptance of failure to encourage people to take on that risk.
Alas, a recent study suggests that the perceived risks involved in starting up a business are not as big as we previously imagined.
The study found that whilst entrepreneurs are very likely to fail in their endeavors, the consequences of that failure are not particularly big.
They reveal that a failed startup doesn't cause a hit to the entrepreneurs earnings as they can easily reabsorb back into the salaried workforce, with their earnings recovering very quickly.
Risk free innovation
The research found that when entrepreneurs return to work after attempting a new business, their lifetime earnings return to the level they were on before their business adventure.
What's more, if they remain as entrepreneurs, they tend to earn significantly more than their salaried peers over time.
"Would-be entrepreneurs may think they have a huge chance of failure and will be sacrificing earnings for the rest of their lives, but it's not true," the author says. "Even if the business fails, entrepreneurs don't suffer as much since they are able to quickly transition to the salaried workforce."
The study saw entrepreneurs tracked over three decades to see how their careers unfolded before and after stints running their own companies.
The cohort of entrepreneurs included innovative tech start-ups as well as businesses such as restaurants.  It featured a mixture of both successful and unsuccessful ventures.
Measuring ROI
To determine the ROI of entrepreneurship, the study used the National Longitudinal Survey of Youth-1979 (NLSY79).  This offered access to over 12,500 youngsters from the first survey conducted in 1979, with the participants then tracked each year through to 1994.
When the data was analyzed, it emerged that 52% of entrepreneurial efforts last for less than two years.  Understandably, most of these folks abandoned their business due to low earnings, but there appeared to be less downside to their attempts.
Whilst successful entrepreneurs earned around 10% more than their peers, there was less downside potential for those whose efforts failed.
"The study suggests that becoming an entrepreneur is a rational decision and failing isn't as bad as one would think," the authors conclude. "It doesn't hurt your lifetime prospects."