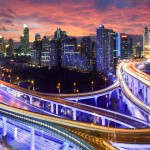 Smart cities and the Internet of Things are terms that have undoubtedly caught the imagination in recent years, but there is a sense that they are catch-all terms that struggle for real meaning.
Researchers from the University of Birmingham set out to rectify that situation by providing a clearer definition of just what makes a city a smart city.
Their paper identifies a number of common elements that define smart cities, even if they utilize differing approaches.
What makes a city smart?
For instance, Singapore focuses its efforts on enhancing the smartness of its population by empowering them with technology, with the aim of reducing their need to move, or if they do have to move, to do so cleanly.
Copenhagen, by contrast, focuses on a green economy and on creating an environment for a high quality of life.
Regardless of the individual approaches applied, the researchers believe a smart city must include one of these five factors:
environmental sustainability
digital technology
mobility
civic initiatives
business
What's more, over 70% of the activity's contributing to a smart city occurred in the first three of these areas.
"Singapore and Copenhagen demonstrate that each smart city adopts solutions that fit its own circumstances. It's vital to learn from these global examples and understand how they became smart – understanding these key factors will help smart cities to fulfil their potential," they say.
Talent-green-technology
"Smartness is a complex and ever-changing concept, but can be expressed as 'talent-green-technology'. It's important to have talented people and a citizenry that is receptive to working towards all of the goals of a smart, sustainable and resilient city," they continue.
To achieve this, they suggest technology is crucial, but it must be technology that supports the delivery of a low carbon society that improves the quality of life whilst also enhancing the environment.
Therefore, the researchers suggest that any initiatives to make cities more sustainable need to be fully connected with any smart initiatives officials are working on.
Alas, at the moment there is little indication that there is any real measure for how 'smart' a city is, whether at national or international level.  Whilst many cities are working on sustainability initiatives, these are seldom linked to any vision for a smart city.
When the researchers examined the spread and density of smart cities, they found that the EU had the biggest concentration of smart cities, but the USA was the smartest country as a whole.
Exploring the smarter state
If you would like to see some examples of smart states, the Gov Lab case study library may be a good place to start.  The library provides examples of how public institutions are utilizing technology in the following areas:
A Talent Bank – this will provide access to various professional and social networks
Collaboration – examples of great cross-departmental collaboration
Platforms – which will provide easy ways for new participants to join existing projects
Toolkits – which aims to provide an accessible repository for shared content
The Smarter State is a Gov Lab project that evolved out of the book of the same name by Beth Noveck.  It aims to design and test how public decision-making could be improved if technologies were better equipped to tap into the wisdom of crowds.