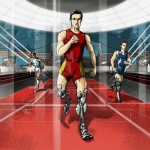 I wrote earlier this year about the innovative potential of the proposed automated driving championship.  Competition has a long history of driving innovation, with those run by DARPA into driverless technology a prime example.
In modern times, they have seen an incarnation in the various open innovation challenges whereby participants compete for the prizes on offer.
One day cybathlon
Along these lines is the Cybathlon event that will be held in Zurich later this year.  The event hopes to attract participants from around the world to show off the latest developments in prosthetics, assistive robotics and brain-computer interfaces.
The competition tests the ability of the technologies, and their wearers, to complete a range of standard, every-day tasks that have traditionally proved very challenging.
The aim was to provide a means of benchmarking progress in assistive technology, with the standard 'race tracks' allowing easy comparison of performance, with entrants put through their paces in six distinct disciplines.
A hot topic
This is a topic I've touched on a few times in recent months, and there are some fascinating technologies on the market.
For instance, a team from Carnegie Mellon have developed a robotic prosthetic that can help its user regain their balance.  It does this by working in much the same way as a human leg.
Or you have the EsoGlove, which is a lightweight rehabilitation device that aims to improve on existing robotic hand rehabilitation devices.
It contains sensors that can detect muscle signals, and the softness of the glove allows natural movement of the hand.
Meanwhile, a number of projects have attempted to connect up our brain waves with prosthetic devices, including the Australian Stenstrode exoskeleton device, or the Johns Hopkins based device that allows a robotic arm to be controlled by thought alone.
The researchers used the technique to attach the thought controlled arm to an amputee's stump, thus significantly extending the motions that are possible.
The device is implanted into the bone at the end of the residual limb and allows patients to use the arm without any kind of harness.
Bringing these kind of innovations together will hopefully accelerate the already rapid pace of progress that's made in the field, with exciting implications.
Certainly a project to watch with interest.