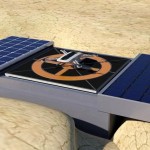 I've written a bit recently about attempts to make drone traffic control more effective.  For instance, one project, called GoFlyZone, uses the flight plans uploaded by drone operators to produce traffic maps, with the aim being to help avoid incidents by allowing other operators to see flight paths and times before they take to the sky.
"The beauty of this is that drone operators go to the website with their flight plans and can immediately find out if there is any conflict," the developers say. "You don't need an air traffic controller at all."
There are also improvements being made in the mapping capabilities of drones so that they can fly safely independently of an operator.  A recent project saw the creation of detailed 3D maps for drones to navigate by, whilst a team from Stanford Intelligent Systems Laboratory (SISL) is working with NASA Ames to create a kind of traffic management system (UTM) for drones.
The Dronebox
Another approach is being tried by H3 Dynamics, who have developed a platform called Dronebox.  This provides drones with 24/7 autonomous capability for things such as recharging and storage.  It can even download data collected by the drone.
This data is then sent to the cloud to allow for greater communication between drones, and indeed other Droneboxes, which the makers believe will aid some of the navigation systems outlined above.
This could be invaluable not just for civilian and commercial use, but in areas such as emergency response.
It forms part of a wider body of work around the so called 'Internet of Drones'.  The concept, which coined by Uavia, would see drones equipped with the IoT enabling processors.
This would allow them to be operated by computers over a 3G/4G LTE network and differentiates it from traditional drones that are controlled through radio links, or via a tether.  Whether tethered or radio powered however, both approaches tend to limit the range of the drone to within a few miles of its operator.
It's an interesting trend to keep an eye on.  Check out more on the Dronebox project via the video below.