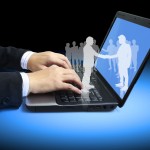 A few years ago I covered a number of new services that were emerging online to try and make it easier to convey ones reputation on the various peer to peer platforms that were emerging at the time.
These included the likes of Traity and eRated, who aim to create a mutual trust between two parties.  They let users create a profile that pulls in information from a whole range of sources.  These include the usual suspects of LinkedIn and Twitter, but also the likes of Amazon, AirBnB, Uber and oDesk.
A more recent entrant into this marketplace is Deemly, who also attempt to consolidate our various ratings online into one, single 'trustworthiness' rating.
As with the other platforms, users create a profile on Deemly and then connect it up with ones accounts from around the web.  The platform then goes about calculating a reputation score based out of 100 using it's algorithm.
"We differentiate ourselves by firstly being focused on the Scandinavian and Northern European markets, which means the local platforms and users here are not necessarily relevant for platforms like eRated and Traity. Secondly, we offer an integrated rating system targeted at newly started platforms, who does not yet have trust building features. Thirdly, our approach is based on academic research and startup experience with sharing economy startups," Sara Green Brodersen, Founder of Deemly told me.
It's believed that your Deemly score could even be used in other areas in future, whether that's a job application or even proving your virtues in an online dating context.  With more and more peer to peer interactions taking place online, trust will be increasingly important, and Deemly seem an interesting new candidate to add to the mix.
Check out the video below for more information on the service.