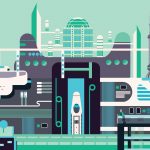 Smart cities are undoubtedly one of the hottest topics around today, and it's fascinating to see a number of cities working on open platforms to facilitate the development of technologies to make the city more effective.  From Bristol's Bristol is Open, to Santander's SmartSantander project, cities are increasingly investing in platforms to support their efforts.
As you might expect however, there is an inevitable variance in the success rate of these projects, and a recent study led by researchers at The Open University set out to examine the success of a number of UK based smart city projects.
How smart are smart cities?
The report looks at the smart city initiatives in Bristol, Birmingham, Milton Keynes, Manchester and Peterborough, and tries to connect up the smart city projects with the overall outcomes for each city.
It does this by trawling through city reports and conducting interviews with local government officials to try and deliver a best practice guideline for the evaluation of smart city initiatives.
"Smart city programmes are springing up across UK cities, offering solutions for contemporary challenges facing cities associated with population and urbanisation pressures, and bringing opportunities for smarter: governance, economic development, citizenship, living, environments and mobility. To support future city strategies, we need to understand the benefits of the embedded ubiquitous technologies and smart city developments in our everyday lives, by examining existing and best practice approaches to evaluation, measurement and reporting on the outcomes for cities. Cities around the world will find this new research report on smarter UK city evaluation approaches of considerable interest, in providing case studies and analysis that supports drives towards continuous improvement and city learning," the authors say.
As with many new technologies, there is bound to be the so called trough of disillusionment as lofty expectations are not immediately met by reality.  Having an effective way of assessing our smart city projects is therefore going to be crucial for the movement to progress and improve.  Hopefully this paper will be a good step along that journey.