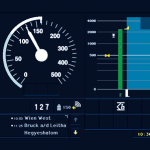 I've written a few times about innovations in train travel, but most of them have revolved around the provision of smarter, more relevant information to help ease the flow of people across the network.
There are a number of projects however that aim to make the transit of the trains themselves smarter.  One of these is the European venture the European Train Control System (ETCS), which is aiming to introduce a single, harmonized signalling system throughout Europe to replace the often incompatible systems deployed in individual nations.
Smarter signalling
The project is part of a wider EU legislative framework that requires any new or upgraded track/rolling stock within the European rail network to follow ETCS guidelines.
Suffice to say, as with any transition on this scale, things have not been entirely smooth, with manufacturers and infrastructure providers alike expressing concern.  For instance, the specifications have been interpreted in different ways in different places, whilst lab certification procedures have not been available at the time of need.
The project had a number of aims, including better on-board location via a combination of Global Navigation Satellite Systems (GNSS), Universal Mobile Telecommunications System (UMTS) and Global System for Mobile Communications – Railway (GSM-R) technologies.
Checking the ATLAS
Central to the project is a simulator called ATLAS (Advanced Train LocAtion Simulator), which allows the train to be configured or analyzed alongside its on-board location system.  It even allows the route of the train to be examined, whilst also providing performance evaluation that provides a visual output of a number of stimulations.
ATLAS consists of four main modules:
A route simulator to calculate the position and velocity of the sensor
An input generator that uses data from the route simulator and generates data for use in the position estimator
This position estimator tests the location algorithm
Finally, the performance analyzer allows users to compare and contrast how each position configuration is actually behaving
The project utilizes ATLAS to automate the testing of various antenna distributions under a variety of performance zones.
The overall aim is for the system to help improve both the safety and the efficiency of the railway network by facilitating a faster rollout of ETCS.