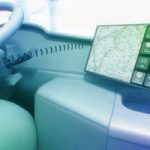 Reading the popular press, it's easy to assume that truck driving is a career with a pretty short shelf-life, and indeed a number of tests are underway to automate the job.
Nonetheless, there are a number of innovations aiming to improve the lot of the humble trucker.  For instance, I wrote recently about IdleSmart, which is hoping to help keep drivers warm as they sleep at night.
Or you have the researchers that have developed a system that can predict from your facial expressions and movements whether you're getting drowsy at the wheel.
Are you fit to perform?
This is very much the field that a new startup, called Fit 2 Perform, are aiming to make a difference.  Driving remains the most popular job around the world, in terms of employee numbers, yet so many drivers suffer from health problems ranging from obesity to back pain, cardiovascular diseases to stress.
Fit 2 Perform aim to help with these issues by providing drivers with smart telematics and wearable technology that monitor their health from within the cab.
Each driver is kitted out with a wristband that records their physical data, including heart rate and activity levels.  This data is then sent to the vehicle, where it's combined with vehicle data to determine the overall fitness of the driver.
This information can be shared with the fleet manager to ensure that only drivers safe to be on the road are behind the wheel.  The overall goal is to make driving a safer and healthier livelihood, whilst also providing smarter information that overcomes the challenges presented by the rather blunt tool of mandatory break times.
It's an interesting approach, and you can learn a bit more about the technology via the video below.