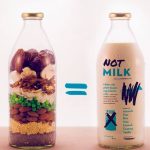 Recently I wrote about a new project, called Spyce Kitchen, that offered people the prospect of an automated chef for their kitchen.
The project, which was a recent winner of the Lemelson-MIT Student Prize, offers a stove, fridge, dishwasher and chef, all in one automated unit.  It contains a range of sensors that are capable of ensuring the right ingredients are included in just the right amounts.  It can then cook your food at the right temperature, and for the right time, to ensure a beautiful meal comes out the other side.
It's a fascinating project, but is not the only application of artificial intelligence in food production.   The Not Company, for instance, are using AI to get to the very bones of how food is constructed.
Their algorithms are exploring the molecular makeup of various meat and dairy products, and using this knowledge to try and construct replicas using plant based materials.
They believe that by finding plants that have a similar molecular structure to meats, milk, egg and cheese, they will be capable of producing tasty alternatives for vegan consumers.
What's more, the algorithm doesn't just seek to replicate a foodstuff, but also tries to augment this recipe so that it's just as tasty but even more nutritious.
Thus far, for instance, it's been able to make a milk alternative from nuts, peas, rice, linseed and coconut.  There are also distinct versions of hot dogs, chocolate and mayonnaise.
Sustainable agriculture
Central to the ethos of the venture is the belief in a more sustainable way of making the foods we have come to rely on and love.  Huge chunks of the earth's available land is set aside for livestock, which creates huge pressures on the environment.  So creating the same products in a more sustainable way could have huge benefits.
It's a fascinating approach, but I suppose the proof of the pudding really will be in the tasting as far as the future success of the project.  It should be a venture that's well worth keeping an eye on.
Check out the video below for more information on the company,