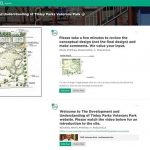 Smart cities are undoubtedly one of the hottest topics of the past year, with a number of cities providing 'operating systems' to support and facilitate developers and citizens making our urban areas a bit smarter.
Despite this, the benefits don't appear to be being communicated particularly well to the citizens themselves, with a recent report highlighting the general ignorance and ambivalence many people feel towards smart cities.
"In spite of substantial investment in smart cities from the Government, local authorities and businesses, most people don't understand the concept or, more importantly, how smart city digital communications technology could improve their quality of life by enhancing infrastructure and public services, including transport and traffic management, energy, water and waste management, healthcare and other community services," the authors say.
Open data based story-telling
A project that might help to overcome this is mySidewalk, which is an open data archive of stories to showcase the potential of smart cities.
The platform was launched by city planners who wanted to use the power of open data to showcase the potential for change in local communities.  They reason that most citizens sit on the outside of such change looking in rather than feeling emboldened to initiate change themselves.
The site provides a raft of open data in a dashboard format that allows local officials to make the best decisions possible for particular projects.  These dashboards provide visualizations on a range of datasets, whilst also allowing for easy comparison between local, regional and national areas.
The aim is for these stories to showcase the potential of these projects sufficiently to entice citizens to get involved.  Only time will tell just how effective they prove to be in achieving that.