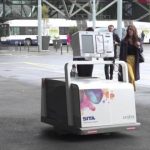 One of the more peculiar aspects of drone based innovation has been the development of a number of ground based devices.  Starship Technologies are perhaps the most well known, with a machine developed to deliver a range of products.  This basic concept has been built on by companies such as Dominos, who are proposing to use it for delivering pizzas.
The robots look a little bit like R.A.L.F from Flight of the Navigator, but they appear to be gaining traction as their range of uses expands.  Tech company SITA have recently begun testing a new device to handle luggage at Geneva airport.
Robotic baggage handler
The machine, called Leo, is capable of greeting a passenger as they enter the terminal and then taking care of their luggage for them.  First they weigh each bag, before then printing off the relevant tag, checking the bags in and carrying them to the baggage handling area.
Leo is capable of navigating the airport by itself, avoiding not only the physical aspects of the building but also the passengers.  The aim is to significantly speed up the check-in process.
It's part of a range of innovations that are looking to enhance our airport experience.  Earlier this year, for instance, I wrote about a facial recognition technology that tracks people from the moment they enter the airport and is capable of running security checks without us having to queue up for a formal search.
It's certainly an industry that's ripe for innovation, and the likes of Leo could be about to deliver it.  Check out the video below to see Leo in action, and let me know your thoughts in the comments below.