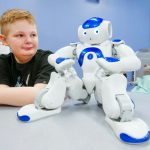 One of the more peculiar aspects of the recent advance in robotics has been the application in caring environments.  For instance, last year I wrote about the Huggable teddy bear that had been developed by researchers at MIT.
The device aims to keep a child company in a hospital environment, whilst also monitoring them for various signs of physical and emotional wellbeing.
The Huggable is not the only entrant in this market, with MEDi, from RxRobots, offering a similar experience.  The device is designed to help calm the nerves of children in hospital, whether they're about to receive an injection or any of a number of potentially scary procedures.
Keep calm and carry on
The device is now a fully fledged member of staff at Broward Health Children't Hospital, and provides a range of support services for young children at the hospital, ranging from a 'pain coach' to a friendly companion.
The hospital is one of eight across the United States that are using the MEDi and is capable of delivering support in both English and Spanish.
Suffice to say, the device costs a fair bit more than a regular teddy bear, but the initial feedback appears to be positive, from both hospital staff and patients alike.
"Hospitals can be a scary place," staff say. "We use him to distract them and to educate them about the procedure. He can make it more fun and less threatening for them."
Long-term companionship
Interestingly, the device is also capable of using facial recognition technology to remember the children it works with, so should the child return to hospital, MEDi will remember their name.
"MEDi took the fear of being here away," one patient's mother says. "With two surgeries and chemo and radiation, it was all very scary. There were a lot of dark days for a while. We didn't think he'd ever get out of the hospital. But he's doing great now."
It's a fascinating area and certainly one of the more surprising applications of robotics.  There have already been cases of similar use in elderly care homes, again with apparently positive results, so it will be interesting to see just where this goes next.
Check out the video below for more on MEDi, and let me know your thoughts in the comments below.