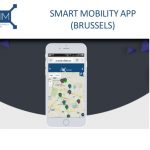 A number of projects down the years have attempted to make urban transportation more efficient and sustainable, whether it's Finland's Kutsuplus or the trial of driverless buses in Trikala, Greece.
An EU-funded project is attempting to provide a platform to support these kind of projects.  The cloud based platform, called the European Cloud Marketplace for Intelligent Mobility, was built upon a previous platform, called the European Platform for Intelligent Cities to provide a marketplace for urban transport services.
Transport marketplace
The platform aims to be a place for service providers, developers and data to come together for the co-creation of innovative travel services for citizens.
The cloud based service involved a total of 14 partners from five countries, together with a whole host of other participants to ensure that cities could easily upload their services to the cloud and hopefully facilitate innovation.
A number of pilot projects were conducted, including ones in Barcelona and Paris.  For instance, attempts were made to marry data from parking systems with public transport data to both save travelers time and make transportation more efficient.
The project, which formally ended this summer with the team believing it to resemble a multi-modal solution for mobility needs of  any modern city and having achieved the three core goals at its outset:
Enable cities and business to easily migrate their services to the cloud;
Facilitate new service creation by opening-up cloud-based services to innovators;
Spur cross-border adoption of cloud-based services in Europe and beyond
A number of common APIs were developed for the project and added to the SmartMobility.io initiative, which hopes to provide a standard way for mobility services to be accessed by developers.
The team hope to provide a streamlined model for the next stage of ECIM, whilst also exploring how to commercialize the platform in future.
With a number of cities developing platforms to support the development of IoT based applications and services, it will be fascinating to see not only how individual platforms evolve, but also how the platforms mesh together so that developers can seamlessly build for different cities.
Check out the video below to find out more about ECIM.