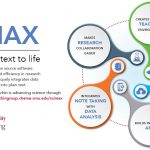 The power of open data to the scientific and innovation communities is something I've touched on a few times on this blog over the years, and indeed it represents one of the pillars of the EU's innovation policy.
"To achieve that [open science], Europe must be as attractive as possible for researchers and startups to locate here and for companies to invest. That calls for knowledge to be freely shared. The time for talking about open access is now past. With these agreements, we are going to achieve it in practice," Sander Dekker, the Dutch state secretary for education, culture, and science, said in a recent statement.
Apart from the various policy instruments that can be used to support that, a recent open source platform developed by researchers at Carnegie Mellon might also provide some assistance.
The system, called Scimax, was built in large part because of frustration with the software most researchers have to use when writing academic papers.
"Right around the time I got tenure, I started looking at what the next 20 years of my research could look like if I stayed on the trajectory I had been on in my career," the developer says. "I knew a lot was possible, but I felt like I'd hit a plateau in productivity. I couldn't find any software out there that did what I needed, so I created scimax."
The platform integrates data analysis and processing with plain text, thus allowing researchers to bring text to life.  The developers believe it will have a number of possible applications in both research and teaching.  Not least amongst these is the apparent streamlining of writing the papers themselves as it removes the need for multiple applications to handle references, word processing and data analysis.
Read more about Scimax in this short paper that accompanies the platform, or alternatively or via these longer papers written to highlight the use of Scimax to encourage data sharing.