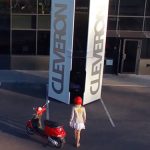 Robots have become increasingly adept at maneuvering a wide range of packages, whether in warehouses, supermarkets, airports or factories.  This latest generation of robots is capable of both detecting sizes and shapes of objects and understanding where these items need to be taken to.
The latest example of this technology in practice comes from Estonia, where robots are being used by delivery companies to provide customers with an automated way to collect packages that were unable to be delivered in person.
The PackRobot has been developed by Cleveron and aims to provide a more advanced version of Amazon's Lockers.  The devices, which have been installed in various locations throughout Estonia, use QR codes and robotics to help us gain access to packages whenever we want.
Smart storage
Couriers deposit packages into the PackRobot, at which point the robot measures the package and places it in the correct location according to its size.  The robot is capable of adjusting the shelving inside the device to better fit the packages in its care.
Once inside, the package is kept cool and dry and you use a QR code to have your delivery pop out of a single slot with next to no fuss and certainly no hunting around for your item.
There are ten of the units currently in operation across Estonia, with a second wave planned for a later date.  This wave will hopefully have a range of different size and shape containers, although the nature of the second phase will obviously depend on the success of the initial trial.
Suffice to say, it's far from clear whether the idea will ever expand out of Estonia or not, but it's another sign of the improvements being made in robotics and might provide a glimpse into the future of postal storage.
Check out the video below to see the PackRobot in action, and let me know your thoughts via the comments.