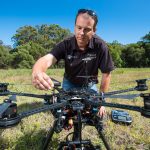 Drones have proven particularly useful in monitoring our environments, whether that's the state of glaciers or the utility infrastructure.
So it's perhaps no surprise that a team from Queensland are using drones to keep tabs on the koala population in the region.  The drones come equipped with thermal imaging cameras, statistical modelling software and powerful AI.
"Using small drones to take images is becoming more common but we know of no others combining this with cutting-edge analytical technologies that draw meaning from those images," the team say.
"We've found thermal imaging can detect even well-camouflaged koalas effectively and our counting and tracking algorithms can allow us to differentiate the shape of a koala from a possum, bird or other animal."
Koalas in the mist
Whilst the initial application of the technology is used to keep tabs on koalas, the team reveal that it could easily be deployed on other animal species too, whether friend or foe to the region.
By using drone technology, it represents a significant time saving to local officials.  What would ordinarily take a couple of hours to do, the drone achieved in under 30 minutes.
"Understanding the abundance of a species in an area is fundamental to the management of that species – and the more regularly and accurately you can monitor the health of the population, the better," the team continue.
The project promises to provide a coordinated approach to species population monitoring and assessment, and therefore significantly aiding conservation plans, with GPS locations and high-res imaging offered to officials.
With koala numbers slowly declining, it's an approach that could literally help the species from dwindling away.
"Our residents are determined to maintain our coastal koala population. An all-out, full-on, last-ditch effort is needed with the whole community, developers and government if we are to succeed," local officials say.