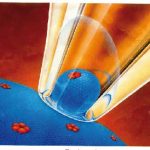 Neuroscience can be an incredibly fiddly process, but a team of researchers are hoping to utilize automation to do a lot of the fiddly work for us.
In a recently published paper, the authors describe how robots could be used to clean tiny devices that are used to capture signals from our neurons, which would significantly speed up the scientific process.
Improving efficiency
At the heart of things is a process known as patch-clamping, which requires miniature pipettes to be clamped to neurons.  Alas, each new recording requires a fresh pipette, which to date has been done manually.  As you can imagine, it's a laborious process.
The researchers propose an automated mechanism for doing the same job, with it resulting in each pipette now being used up to 11 times before being replaced.
"This is a step toward revolutionizing the robotic techniques in neuroscience," the authors say. "We want to be able to put samples into our machine and walk away while it records 50 or even 100 neurons. This could enable for neuroscience the kind of research automation we've seen in other fields such as molecular biology, dramatically expanding our ability to listen in on brain signals."
Meet patcherBot
The machine behind the process, which they've called 'patcherBot' has it's very own Twitter account, where each cell is shared as it's recorded.
patcherBot is part of a stream of automations coming out of the same lab, with another robotic technology, called Autopatcher, doing it's part to automate bits of the patch-clamping process.
Central to the automation is a process improvement whereby the pipettes are cleaned using the same detergents used to clean laboratory glassware.
"If you could clean the pipette automatically after each recording, you could just tell the Autopatcher to go back to cells again and again," the team say. "You wouldn't even have to be in the room anymore. You could set this up before you leave the lab for the day, and when you returned the next morning, you'd have recorded 50 or 100 cells."
Autopatcher was reconfigured so that it cleaned and rinsed each pipette in between each recording it made.  The robot dips the pipette into the detergent before rinsing it out.  The whole process is complete in around a minute.  Importantly, the quality of recordings with the cleaned pipette were easily comparable with fresh ones, with the researchers finding that each pipette could be re-used around 11 times before results started to slip.  Eventually however, they hope to improve the process sufficiently that pipettes could be reused up to 100 times each, maybe more.
The team have filed for patent protection for the new technique, with the hope that it will eventually be sold to labs around the world for both patch-clamping but also other forms of pharmaceutical testing.
"If we can put this technology into a piece of equipment and have all the smarts provided by software, it could really democratize this area of research," the team conclude. "That's where we're headed in building tools that will make new science possible."