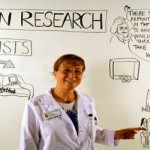 I've written a few times about attempts by the research industry to encourage greater openness, both the papers that result from research and also the data that sits behind those studies.  Much of this drive towards greater openness is driven by those holding the purse strings, so it's perhaps no surprise that the Wellcome Trust have recently launched an open research platform of its own.
The site, called Wellcome Open Research, is based upon F1000 technology and aims to speed up the publishing of research outputs in open and transparent ways.
Open science
The site is based upon a model of immediate publication, which is then followed by open peer review.  It allows researchers to publish a range of content types, whether traditional articles or datasets, negative findings or methodologies.
The site encourages peer review to be focused purely on helping the authors improve their work rather than imposing editorial decision making, with authors themselves choosing referees to help ensure that any feedback is appropriate and qualified.  To ensure transparency, these reviews are then posted freely for all to see, alongside the name and accreditations of the referees.
"Our long-held view is that researcher assessment should be based on actual outputs – supported by article-level metrics and transparent comments from referees – rather than using the journal's name, or its impact factor, as a proxy of quality," the Wellcome Trust say.
Open data
Of course, a central plank of the open science agenda is making the data that sits behind science available to all.  So it's pleasing to see a second project, this time undertaken by agricultural research organization Rothamsted Research, attempt to make data from it's experiments freely available.
A major challenge with this is that just dumping the data into the ether is of little use.  Much of it is in an unusable form, and data in isolation fails to take into account the context of the research that generated it.
"This is because the long-term experiments are very complex, and they are looking at agriculture and agricultural ecosystems so you need to know a lot of about what the intention of the studies are, how they are being used, and the changes that have taken place over time," the team say.
The organization collected data primarily from experiments conducted on livestock pastures on its North Wyke Farm Platform in Devon.
The project is part of Godan (Global Open Data for Agriculture and Nutrition), which was launched back in 2013 to promote open data in agriculture.  It has grown to have over 330 partners around the world.