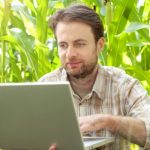 I've written a number of times about the fascinating innovations impacting the farming industry.  Indeed, such is the shift in technology, you could easily argue that manufacturers such as John Deere have taken a leap out of Rolls Royce's handbook and transformed themselves into a service company that makes money from the data their machines generate rather than the machines themselves.
Now the power of such data is indisputable, but the power increases exponentially when that data is made open.  That's the case made by a recent paper authored by the Open Data Institute, GODAN, Open Data for Development (OD4D) Network and the Open Data Charter.
The Agricultural Open Data Package: BETA version has been designed to help governments understand the impact of open data in farming.  The paper comes with an accompanying website, which comes with a range of policy areas, datasets and use cases to help policy makers develop open data to help them address food security challenges.
Key types of data
The paper identifies fourteen key types of data that it believes will be key for government to make available:
Pest and disease management

Production advice

Soil

Hydrology

Elevation

Meteorology

Markets

Infrastructure

Value chain

Land use and productivity

Rural projects

Government finance

Official records and regulations
It then goes on to provide a number of use cases to illustrate how open data is being used to improve sustainable agriculture and food security.  These include more transparent price information in India, or the ability to benchmark productivity levels in the Netherlands.
The group also highlight the importance of interoperability, whether in open contracting or global product classification standards.
The website also aims to provide people with support in using, and adding to, open data.  With the huge variety of stakeholders in agriculture, this can be incredibly challenging, but a range of implementation considerations are shared, whether around developing a data infrastructure and data ecosystems, or coordinating between agencies.
The site hopes to be as interactive as possible, with visitors encouraged to add their comments as well as adopt the international open data charter.  Users are also encouraged to provide interesting use cases from their personal experiences, whilst also sharing relevant government agriculture data to add to the data commons hosted on the site.
With farming being an increasingly data driven activity, this is certainly an interesting project, although whether it will encourage commercial operators such as John Deere to contribute their own data sources to the commons remains to be seen.