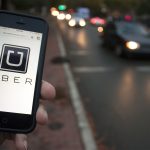 Recently I covered a new project that aimed to tap into the data given off by our mobile phones to better understand traffic flow in Montreal.
They've teamed up with traffic management company Orange Traffic to install around 100 sensors on the busiest roads in the city.  The sensors are designed to detect Bluetooth signals from the mobile phones of drivers, and thus provide planners with a detailed, yet inexpensive method of monitoring traffic flow in the city.
So it's interesting to see the recent launch of Uber Movement, an open data platform using information from the billions of rides completed via the network.
Transport data
At the moment the site is only available to planning agencies and researchers, but the hope has to be that eventually it will be open to a wider community of stakeholders.
The platform currently contains data around travel in Sydney, Manila and Washington DC, with more cities due to come on stream rapidly in the coming months until eventually all cities where Uber operates featured.  The data held will go back to early 2016.
"We don't manage streets. We don't plan infrastructure," Uber say. "So why have this stuff bottled up when it can provide immense value to the cities we're working in?"
Whilst it is a niche dataset, it does nonetheless provide planners with some insight into where people begin and end their journeys, thus adding to a growing pool of open transit data that aims to guide planners decision making.
It comes hot on the heels of a new report from the Urban Transport Group on the powerful potential of open data to transform the way we move about our cities.
"Emerging data will mean transport users will become far more fully informed about their travel choices whilst at the same time transform the ability of transport authorities to plan and manage transport networks and services more efficiently and effectively," it says.
Uber is certainly on message, but time will tell just how useful the data proves to be in improving the flow of our cities.  Check out the video below for more information on the project.