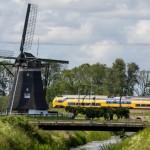 Back in 2015 I wrote about a fascinating project that hoped to see the Dutch rail network powered by the wind.  The plan was for the railway to be 95% powered by green energy by 2017, and 100% by 2018.  The project was notable both because it involves no government subsidies.
Well, it turns out that they've actually surpassed their initial goal, for they announced on the 1st January that all electric train journeys will be powered by green energy from that day forth.
Rapid progress
The project reached 75% by last year, and pleasingly managed to achieve their full target a year ahead of schedule.  The network carries around 600.000 people each day, and needs approximately 1.2 billion kWh of electricity a year to do so.  To give you a size of the scale of this, it equates to the same amount of electricity required by all households in Amsterdam.
At the moment, wind power contributes around 7.4 billion kWh to the Dutch grid per year, with approximately 5 billion kWh imported from wind farms outside of the Netherlands.
It's a problem that Eneco hope to overcome for this particular project however, as they're building new wind farms in the Netherlands, Belgium and Finland specifically to power it.  Indeed, the early completion of these farms have been the driving force behind the early meeting of their target.
It was certainly a fascinating project when it was launched in 2015, and it's pleasing to hear that it has been achieved ahead of schedule.