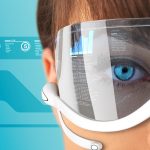 Augmented reality began life as something of a gimmick, but it's slowly gaining ground in a number of fascinating areas, from construction to surgery.
A new lab from the UK based Digital Catapult is aiming to support the next generation of augmented reality products.  The project, known as the Augmentor, is run in partnership with Seedcamp and aims to support early stage companies working in the field.
Each program will be ten-weeks long and provide the participants with both technical and business mentorship, as well as space and equipment at the Digital Catapult's facility in central London.
"Immersive technologies are fast becoming a central part of the digital economy and there is a real demand for access to expertise and equipment in this space. Our new lab will help to provide businesses with access to state-of-the-art immersive technologies under one roof, providing a vital opportunity for them to refine their ideas and test products across the range of equipment on the market today," the Digital Catapult say.
Augmented medicine
A good example of the potential of augmented reality comes via US based company EchoPixel, who recently announced the launch of a new product in their technology that's designed to support a range of medical procedures.
A new True 3D Print Support offers a range of software tools to help establish 3D modeling in clinical environments.  The suite is built on top of the company's True 3D Viewer software and allows medical professionals to immediately visualize, and also interact with, the patients specific anatomy.  For instance, physicians can move, turn, dissect and cut open virtual patient anatomy.  The new software now allows such virtual anatomy to be turned into physical items using 3D printing.
"We believe there's a revolution happening in 3D medical modeling, and it's just getting started," EchoPixel say. "3D printing is a game changing technology, but it's not yet accepted as a widely effective clinical tool, primarily due to the cost and time restrictions.  EchoPixel's Interactive Virtual Reality is a complementary technology that can enable truly effective 3D modeling for the first time. It has the potential to dramatically reduce time and cost investments, while increasing clinical accuracy and efficacy."
Industrial magic
Augmented reality is also likely to play an increasingly important role in the life of service technicians.  The VTT Technical Research Centre in Finland has recently completed a project utilizing the technology for industrial maintenance.
"The digitalisation of industry is changing maintenance tasks and tools – an increasing number of employees now do knowledge work. The best productivity and work satisfaction can be achieved by developing work practices – and tools based on new technology – holistically, together with employees," VTT say.
Technicians would use augmented reality to be given remote support from an expert located back at base, with hands-on instructions given to the technician.
Such applications in industry are increasingly viable due to the rapid lowering of costs of AR tools.  VTT believe that AR will be used in a growing range of industrial applications in the coming years.
"Augmented reality in the industrial context is not a fad. Very likely, it will be a common instrument for service technicians in the coming years. However, making the most out of it requires strong collaboration with technology vendors, but more importantly, an understanding of how the internal processes need to support the AR solution," they say.
So the launch of Augmentor at the Digital Catapult is certainly timely.  Applications to participate in the project are open until midnight on the 26th February, and you can sign-up via their website.