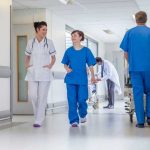 It's increasingly common for employees to be fitted with wearable devices to monitor their activity levels.  Most of the time this is designed as part of the organizations health and wellbeing programs, but it's increasingly common for it to be used to track the efficiency and productivity of staff, especially in warehouses and similar facilities.
One such system is Lighthouse, a product that promises to transform the workplace through the power of location.  Employees are kitted out with a mobile app that then tracks their location using Bluetooth.
This isn't designed to be a Big Brother type monitoring service however, but more a way of delivering location specific information to the employees exactly when they need it.  For instance, the app provides to do lists, safety content and other work related instructions, all based upon the current location of that employee.
The aim is to make employees more efficient by giving them precise information exactly when they need it, thus making them, and their employer, more efficient.  Of course, it does also have management level analytics, and provides a heat map to show managers where employees are spending their time, but they very much market themselves as a service that employees will find useful rather than invasive.
The software plans to eventually install features such as an If-This-Then-That (IFTTT) engine, which will take data from sensors and provide the right outputs to workers at the right time.  The company are aiming to disrupt labor intensive industries that are currently using manual, paper based processes to provide workers with instructions.
It will be interesting to see just how far they manage to get.