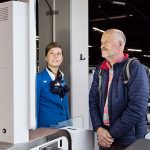 About a year ago I wrote about a novel pilot undertaken by a team of researchers in Norway to smooth our passage through the airport on the way to our flight.  The facial recognition technology detects when we enter the airport, and then tracks us through the airport until we're at the arrivals hall at our destination.
"When a lot of people gather in one place, queues develop quickly," the researchers say. "Rather than stop every single person at an airport gate, we've developed algorithms that recognize people's faces, based on electronic passports with a photo and ID number."
Smoother passage
By identifying and checking passengers on the fly, it allows approved individuals to journey through the airport automatically.  The facial recognition software used by the technology is already developed, and their next stage is to test it out in a number of airports around the world.
Back then the project was at a prototype phase, but there are already signs that it is being tested more rigorously by commercial operators.  KLM have partnered with Schiphol Airport in Amsterdam to test facial recognition technology in a big to speed up the boarding process.
The process isn't quite as automated as the Norwegian pilot, with passengers having to register themselves in advance, and then scan their boarding passes, passports and faces at a series of special kiosks.  This then allows them to bypass further security checks, allowing the passengers to go straight to the departure lounge.
Overall, the project is designed to speed up our passage through the airport, whilst making security more reliable.
Airport innovation
It's part of a wider body of work looking to innovate various airport processes.  For instance, I wrote recently about a new scanner that aims to automate the detection of dangerous items.  The scanner will allow people to simply walk through particular checkpoints in the airport, and their persons will be scanned automatically.  No more emptying of pockets or removing belts.
Another addition to the burgeoning field comes by way of San Diego State University, where a robotic border guard has been developed.  The device, called the Automated Virtual Agent for Truth Assessments in Real Time (AVATAR) is designed to provide accurate lie detection services to border staff.
"AVATAR is a kiosk, much like an airport check-in or grocery store self-checkout kiosk," the team say. "However, this kiosk has a face on the screen that asks questions of travelers and can detect changes in physiology and behavior during the interview. The system can detect changes in the eyes, voice, gestures and posture to determine potential risk. It can even tell when you're curling your toes."
It's part of a growing number of fascinating projects aiming to make our airport experiences that little bit easier.  It will be interesting to see just how many of them make it to full-scale adoption.