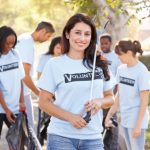 For some, private companies have developed an unfortunate reputation for using corporate social responsibility as little more than a PR exercise, with there being a clear divide between what is said, and what is done.
Research from the University of Michigan set out to explore in more depth to see whether companies really were walking the walk as well as talking the talk, with some quite surprising results emerging.
Following through
The researchers tracked the behavior of a range of organizations that had signed up to the United Nations Global Compact (UNGC) program.  It found that private companies were more likely to follow through on their declarations than public ones, with market pressures the likely culprit behind this.  The exception were companies with customer-facing brands, who had a clear incentive to follow through on their promises.
"There do seem to be conflicts for public companies when it comes to corporate social responsibility," the authors say. "They are constrained by shareholders and by law to maximize profits. If the CEO of Patagonia wants to buy organic cotton, he can make it happen even if it means lower margins. A public company has to justify that to shareholders."
A total of 6,420 companies had signed up for UNGC between 2007 and 2016.  The program covers a range of goals, including labor and environmental standards.  The signatories to the program were then compared against reports from RepRisk, a service that screens corporate mentions across a vast array of media and regulatory documents.
Public vs private
The analysis revealed that private companies reduced their negative impact according to RepRisk by a significant 6.3% per month, with no real change in that for public companies.
"If you think about corporate social responsibility, it's mostly a diversion of resources," the authors say. "Not only from company shareholders to other stakeholders, but also from short term to long term. But public company managers tend to focus more on the short term and are incentivized as such."
The only real exception was in public companies with consumer-facing brands, where CSR activities were aligned with shareholders as consumers can punish companies who behave badly.
"We segmented where companies are in the supply chain, and when a company owns a brand that's high-profile with consumers, like household products, they have better social responsibility performance," the researchers say. "But with the B-to-B companies further down the chain you see the greenwashing."
Doing good
Of course, whilst in essence, it is a diversion of resources, it is also possible to be a responsible corporate citizen and make more money from it.  For instance, a German study found that employees felt considerably happier and more engaged after volunteering with a worthwhile cause.
What's more, a second study looked at whether employees were more productive employees when they were given a performance bonus that they could donate to charity.
Perhaps not surprisingly, having a bonus to chase increased performance among participants.  Interestingly however, when that bonus was in the form of a charitable donation, the performance rose even faster, with a particularly large boost to performance among lower performers.
What's more, in the group where a charitable donation was optional, it emerged that over half of the participants took this option.  Indeed, the performance in this group increased most of all.