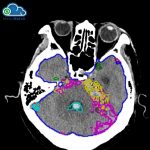 The last year has seen a number of fascinating projects deploying artificial intelligence to better analyze medical images.  Indeed, such use cases have emerged in areas such as radiology, skin cancer, pulmonary hypertension, blindness, cancer, and even various mental health issues.
At the forefront of this movement have been IBM, who have used their Watson AI engine to provide the insights and diagnoses.  The tech giant has recently announced a collaboration with MedyMatch Technology, whose AI based clinical support system is designed to support imaging experts working in a range of hospital settings.
Hemorrhage detection
The partnership will initially revolve around intracranial hemorrhage detection, with IBM integrating MedyMatch's technology into their healthcare offering to help clinicians better detect intracranial bleeding after strokes or head trauma.
I wrote recently about a partnership between Zebra and Intermountain Healthcare that aims to take this kind of imaging analysis into the mainstream, and the MedyMatch deal is more evidence that AI driven analytics is becoming a central part of the daily workflow of hospital staff.
They aim to integrate themselves fully into the work of emergency departments as they assess patients suspected of head trauma or stroke.  The algorithm at the heart of the technology uses a combination of patient data and machine vision to highlight areas of concern to clinicians.
"The implementation of A.I.-based computer aided detection and clinical decision support tools to medicine in general, and to the emergency department, in particular, has the potential to increase the speed, accuracy, and efficiency of patient management – with the potential to ultimately reduce diagnostic errors and improving clinical outcomes," said Michael Lev, M.D., director of emergency radiology at Massachusetts General Hospital and professor of radiology at Harvard Medical School. "MedyMatch is ideally positioned to leverage this technology, and their willingness to collaborate with industry partners reflects their awareness of, and sensitivity to, the complexities of patient assessment in the acute care setting. The Company's first algorithms – CT detection of intracranial bleeds – represents the confluence of physician know-how and artificial intelligence clinical support."
Such rapid, accurate diagnostics are surely set to become a feature of hospital life, and the moves by both MedyMatch and Zebra are further evidence of this rapidly entering the mainstream.
Check out the video below to learn more about MedyMatch and their technology.