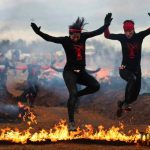 Office life can be altogether harmful for our health.  Whether it's the sedentary lifestyle or the stresses associated with modern life, there are numerous risks to our physical and mental wellbeing.
It is perhaps not surprising therefore, that the last few years have seen tremendous growth in extreme physical challenges, whether it's assault courses, such as Tough Mudder, marathon running, or my own favorite, long distance cycling events.
A recent study suggests that such events can be a fantastic way of buffering the impact of office life.  Events such as Tough Mudder have become extremely popular, with over 2.5 million participants entering the events as of 2016.  Likewise, I'll be joined on the start line by several thousand other riders at this years grueling Maratona dles Dolomites.
"On the one hand consumers spend billions of dollars every year on pain relief, while exhausting and painful experiences such as obstacle races and ultra-marathons are gaining in popularity. How do we explain that? That's what we aimed to find out with this research," the authors say.
No pain, no gain
So what is behind the surge in popularity for such physically demanding events?  The researchers suggest the sedentary nature of our normal lives is resulting in people striving to rediscover the nature of their body.  What's more, the pain and hardship of such events provides an escape from the burdens of self-awareness.
"For individuals who feel that modern office work has made their bodies' redundant, obstacle racing and other forms of short but intense and painful activities provide a brief but acute reappearance of the body," the researchers say.
They go on to suggest that not only do such activities provide an element of escapism from our modern life, but the marks and wounds we get from competing also give us a sense of fulfillment that our normal life doesn't.  All of which paints a rather bleak picture of modern working life.
Are things really that bad?  Let me know in the comments below.