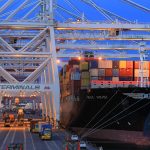 Recently I wrote about a fascinating use of AI to analyze images undertaken by researchers from University College London. They have worked with the shipping industry to try and speed up the process by which containers are checked as they flow through ports.
As with medical imaging, each container is currently scanned by an x-ray machine, with that image then checked by humans for suspicious items.  It's estimated that each container takes around ten minutes to check by a human, but the automated approach developed by UCL can do it in just 3.5 seconds.
The algorithm was trained on a few hundred thousand scans generated by a company called Rapiscan, with the process documented in a recently published paper by the team.
When the algorithm was put through its paces, it managed to spot 90% of the items that were hidden in the images, with just 6/100 false positives given by the system, with a bit of fine tuning reducing this to 1/100.
Shipping and blockchain
The project isn't the only innovative use of technology in the shipping industry.  Danish shipping giant Maersk have been working with IBM to utilize blockchain to more effectively track containers as they navigate the globe.
The technology is designed to digitally manage and track the paper trail of tens of millions of shipping containers.  The partnership will work collaboratively with network of shippers, freight forwarders, ocean carriers, ports and customs authorities to build the new global trade digitization solution, which they hope will go live later this year.
It will use blockchain to improve transparency across the process, reducing errors and also fraud.
"As a global integrator of container logistics with the ambition to digitize global trade, we are excited about this cooperation and its potential to bring substantial efficiency and productivity gains to global supply chains, while decreasing fraud and increasing security," Maersk say. "The projects we are doing with IBM aim at exploring a disruptive technology such as blockchain to solve real customer problems and create new innovative business models for the entire industry. We expect the solutions we are working on will not only reduce the cost of goods for consumers, but also make global trade more accessible to a much larger number of players from both emerging and developed countries."
How it works:
Blockchain, an immutable, security rich and transparent shared network, provides each participant end-to-end visibility based on their level of permission.
Each participant in a supply chain ecosystem can view the progress of goods through the supply chain, understanding where a container is in transit. They can also see the status of customs documents, or view bills of lading and other data.
Detailed visibility of the container's progress through the supply chain is enhanced with the real time exchange of original supply chain events and documents.
No one party can modify, delete or even append any record without the consensus from others on the network.
This level of transparency helps reduce fraud and errors, reduce the time products spend in the transit and shipping process, improve inventory management and ultimately reduce waste and cost.
"We believe that this new supply chain solution will be a transformative technology with the potential to completely disrupt and change the way global trade is done," IBM say. "Working closely with Maersk for years, we've long understood the challenges facing the supply chain and logistics industry and quickly recognized the opportunity for blockchain to potentially provide massive savings when used broadly across the ocean shipping industry ecosystem. Bringing together our collective expertise, we created a new model the industry will be able to use to help improve the transparency and efficiency of delivering goods around the globe."