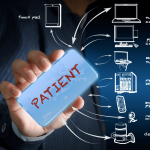 Medical data is an issue that I've covered extensively in the past few months, whether it's our feelings about it being used in medical research, how often do we need to consent to this data being used, and some specific case studies from GSK, Estonia, Google and DeepMind.
If done correctly, I think such uses of patient data in medicine has enormous benefits, whether from an individual patient perspective, a healthcare providers perspective, a policy makers perspective or a medical research perspective.
Indeed, a recent report from the Richmond Group of medical charities highlighted the potential for data to make a real difference.
"Healthcare data is one of the NHS's most precious resources. It allows individuals to be empowered in their own care, medical professionals to improve and tailor individual treatments and the system as a whole to learn and increase its understanding of what causes disease, how it can be prevented and how it should best be treated," the report says.
Taking the public along
What is so important in this whole process is to ensure the public come along and are comfortable with how their data is being used.  This was the principle downfall of Care.data, and is a major criticism of the recent attempts by DeepMind to create a healthcare ledger.
With this in mind, a new website has been created to help this process.  Understanding Patient Data is an initiative from the Wellcome Trust that is designed to support better conversations about the use of data in healthcare.  It aims to provide clear and objective evidence around a range of things, including:
How and why data can be used for care and research
What's allowed and what's not allowed
What options patients have
How personal information is safeguarded
The site aims to provide objective information about the way data is used, with the explanations given in such a way that everyone can understand, regardless of their medical or data science knowledge.
It also provides a library of case studies that give examples of the various ways in which data is used at the moment, and the outcomes of those applications.  These range from evaluating the safety of vaccinating pregnant women against whooping cough, to understanding why diabetes rates vary between ethnic groups.
The hope is that it will facilitate a greater understanding of the use of data in healthcare, and will provide professionals with a ready resource to refer patients to if they have any concerns.  Suffice to say, it is still at an early stage so is being developed all the time, but it should provide a superb resource to highlight the latest ideas and research that underpin the debate.