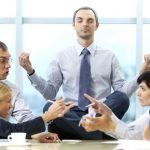 It's rare to find a workplace now without some program in place to help support a healthier workforce, but the success of such schemes varies considerably.  To help practitioners a new hub has been created to bring together the best evidence on the topic, and then to translate that evidence into easy to understand prose.
The Affinity Health and Wellbeing Hub has been developed by a range of organizations, and aims to do multiple things, including:
Bridge the gap between research and practice in workplace health and wellbeing
Provide access to the latest evidence-based literature and tools
Provide an alternative to academic journals as a means of finding out the latest research
Provide a forum for publishing the latest research and literature
Provide a showcase of good case studies and best practice
The resource will aim to cover all aspects of work health and wellbeing, whether it's stress and other mental health issues, or obesity and physical health matters.  It will be freely available for anyone with an interest in the topic of creating a healthier workforce.
The consortium behind the project is a diverse one, including Health and Safety Executive (HSE), Chartered Institute of Personnel and Development (CIPD), ACAS, Institution of Occupational Safety and Health (IOSH), Pricewaterhouse Coopers, AXA PPP Healthcare, Transport for London, Greater London Authority and a range of other organizations drawn from different sectors.
The site is very new, so not all sections are currently populated with content, but it currently has resources on stress, common mental health problems, mental health discrimination and obesity, with more under development as we speak.
The consortium are looking to broaden their reach and attract additional sponsors, together with professionals from the sector who can help to contribute content and expertise.
It's certainly an interesting project, and you can learn more about it via the animation below.