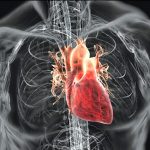 I wrote recently about a partnership between Zebra Medical Vision and American healthcare provider Intermountain Healthcare that will see machine learning based analysis integrated into the image analysis done by a mainstream healthcare provider for the first time.
The AI driven analytics engine is designed to receive imaging data and analyze it for a range of conditions, including cardiovascular, pulmonary, metabolic and bone health.  The analysis will be used by Intermountain to diagnose patients faster, and provide more effective treatment at an earlier stage than is currently possible.
Predicting cardiovascular risk
A study recently published by researchers from the University of Nottingham attempts to go back a step from there, and use machine learning to better predict cardiovascular risk.
The team compared the standard guidelines issued by the American College of Cardiology (ACC) with four machine-learning algorithms to predict the risk of getting a heart attack or stroke.
The results reveal that the algorithms were much better at predicting cardiovascular disease than the existing risk models.
"Cardiovascular disease is the leading cause of illness and death worldwide. Our study shows that artificial intelligence could significantly help in the fight against it by improving the number of patients accurately identified as being at high risk and allowing for early intervention by doctors to prevent serious events like cardiac arrest and stroke," the authors say.
"Current standard prediction models like the ACC are based on eight risk factors including age, cholesterol level and blood pressure but are too simplistic to account for other factors like medications, multiple disease conditions, and other non-traditional biomarkers. These AI algorithms have the potential to help save more lives".
The algorithm was trained on data from 378,256 patients from around 700 doctors surgeries from across the UK.  Over a 10 year period, nearly 25,000 cardiovascular events occurred, with the best performing algorithm correctly predicting 7.6% more patients than the standard approach.
Smarter diagnoses
The study is not the only one to tackle this kind of issue.  The UK's Medical Research Council has recently used AI to predict when patients with a particular heart disorder may die.  The project, documented in a recently published paper, saw an algorithm trained to examine blood tests and heart scans to hunt for signs that it was about to fail.
The study was particularly aimed at patients with pulmonary hypertension, whereby high blood pressure causes damage to the heart.  The condition is terminal for around a third of patients, who die within five years of diagnosis.
As with other algorithm based services, the software was accurate in its predictions around 80% of the time, which compares favorably to 60% for doctors in the study.
Suffice to say, such approaches really thrive when they have access to large clinical datasets, and the Nottingham team are keen to explore whether the technique could be deployed in other populations to predict other disease outcomes.  This kind of analysis will be a crucial staging post before such approaches can be deployed in real world scenarios.