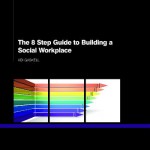 The report in brief
The 8 Step Guide to a Social Workplace will give you:
An overview of the primary changes social business is imparting upon organisational behaviour
Explore the challenges and risks involved in becoming a social business
Outline 8 levers of change that can be used to help create a social workplace
Why the report matters
Social business related projects have a dire success rate, with 80% said to fail to deliver the results expected of them.  I believe a major part of this failure is the focus upon tools and technologies rather than culture.
This has resulted in organisations purchasing social technologies but failing to adjust the rest of their organisational traits to reflect their ambitions to become more collaborative and innovative.
This report will give you a template to change that.  It will outline 8 key areas to focus on to help encourage the kind of collaborative workplaces needed for the knowledge economy, laying the foundations for you to become a social business.
What people say
"an interesting insight into how to make social business work, and comes very much as the enterprise 2.0 wave shifts its focus from to culture and behavior." The Social Workplace
"Through various use cases, from thought leaders in the industry, Adi explains in a clear and concise manner how the game is played.., and won." Rogier Noort, social business blogger for Enterprise 2.0 Paris
"This book is an excellent contribution to the argument. If he can persuade a single CEO to see why the social workplace could benefit the bottom line, then it will have justified the work of creating it." Lawrence Clarke and Peter Furtado, Shillbrook Associates
Browse the executive summary and table of contents below, or purchase the report here.